JEPA2020
The 19th International Conference of the Japan Economic Policy Association
The Main Theme: Economic Policy for 'Peace and Sustainability'
Update!: Thank you for your patience. We are now open for participant registration.
Due to the outbreak of COVID-19, the 19th International Conference of the Japan Economic Policy Association (JEPA) will cancel Hiroshima University of its venue this year, and instead will be hosted as a fully online conference. For this year only, no registration fee is required.

The conference provides the regular sessions and the theme-related plenary sessions. It is intended for academics and scholars working in the fields of Economics as well as policy makers or officials in governments and international institutions. You are welcome to attend the conference.
Past Conferences
Important Dates
Viewing Period of Presentation Video

November 14-15, 2020

Period for Submission of Comments and Questions by Discussant and Participants

November 14-18, 2020

Reply Period for Comments and Questions by Presenter

November 19-20, 2020

Abstract submission deadline
June 30, 2020


extended until August 15, 2020

Full Paper submission deadline
July 31, 2020


extended until September 14, 2020

Presentation Video submission deadline
October 31, 2020
Conference Venue
Hiroshima Prefecture, Japan
fully online at the JEPA Homepage
A prototype page for a presentation (Click on it for a larger image)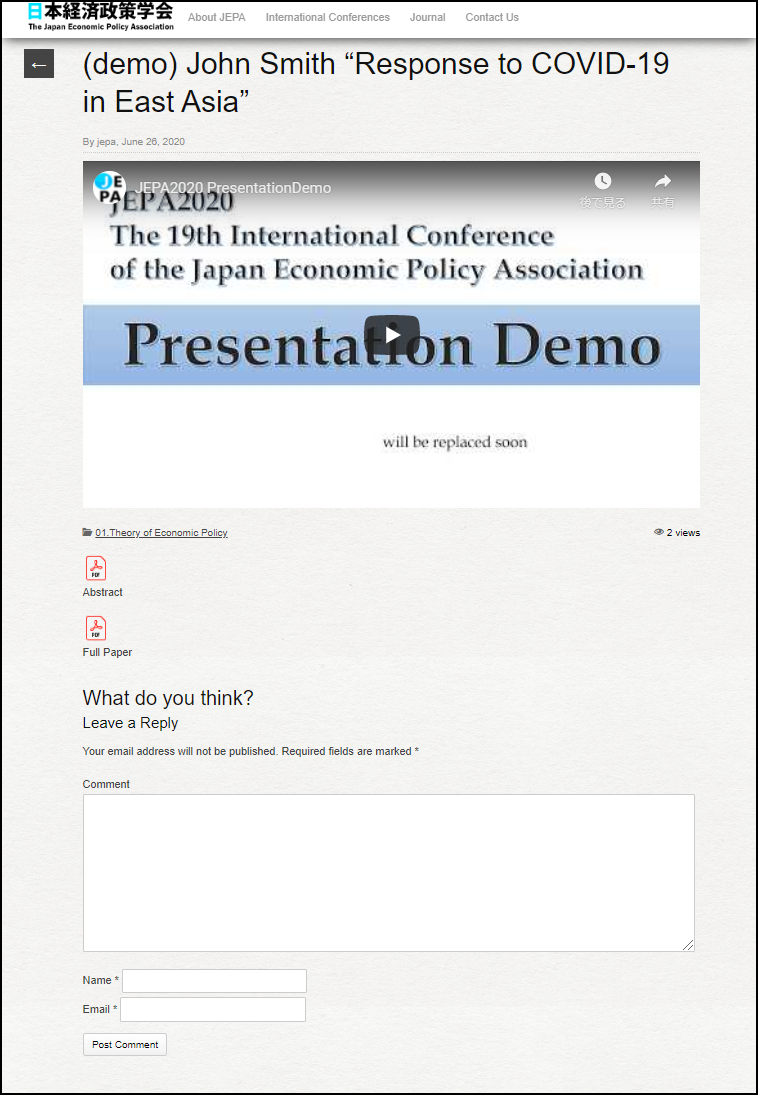 Registration
*If you do not have access to the Google form, please send your full name, position or job title, affiliation to us.
[back to top]
Downloads
Available soon

Program
Proceedings
Journal
The presenters at the conference may consider applying their papers to the International Journal of Economic Policy Studies (IJEPS), the official refereed journal of the JEPA published by Springer.
http://jepa.jpn.org/en/ijeps/
Committees
The JEPA
President: Taro OZAWA
The International Committee
Chair: Takashi YANAGAWA
Vice Chair: Toshiyasu IZAWA
Vice Chair: Akira MAEDA
Vice Chair: Kazuhiko NAKAHIRA
Secretary General : Tatsuma WADA
The Program Committee
Chair : Kazuhiko NAKAHIRA
Vice Chair : Youya HASEGAWA
Vice Chair : Tetsuhiko IZUMI
Secretary General : Toru NAGAHARA
Vice Secretary General : Kentaro TACHI
The Managing Committee
Chair : Daisaku GOTO
Vice Chair : Masaru ICHIHASHI